Context: LocationIQ uses a combination of OpenSource and third party datasets behind its APIs. OpenStreetMap is the most prominent OpenSource dataset we use.
OpenStreetMap is a completely free online, editable map of the world! The OpenStreetMap community consists of enthusiastic and passionate people from all around the world passionate about mapping and supporting open source platforms. You can be a part of the community and help make the database accurate by adding, editing, and verifying information. Contributing isn't as difficult as you might think and in this step-by-step guide, we'll show you how!
---
Step 1: Signup for an account
Navigate to openstreetmap.org and click on the 'Sign-up' button on the upper right. You'll need to input your email address, a display name and a secure password. Alternatively, you can choose from a list of third-party auth to login.
If you already have and account with OpenStreetmap, the login button is right next to the 'Sign up' button on the top right.
You'll see a detailed walkthrough that'll take you through all available options and point you to other valuable resources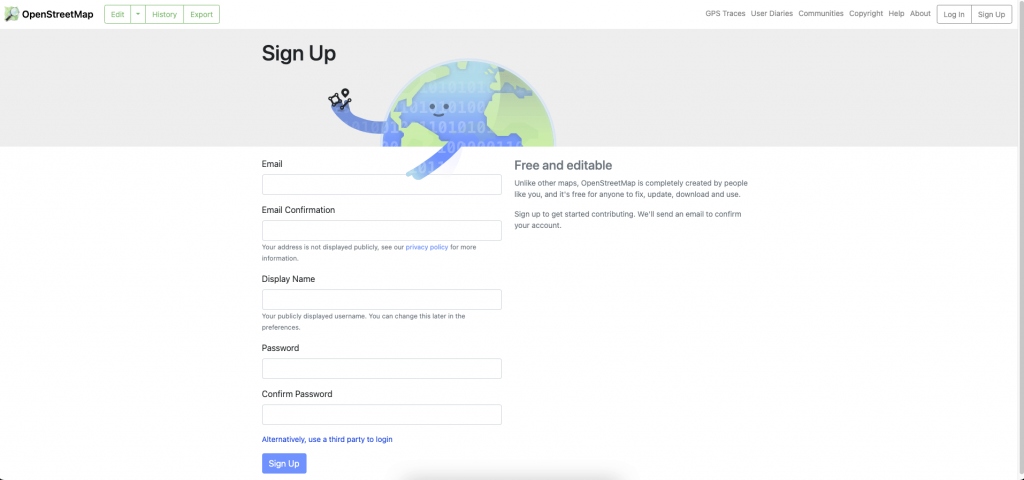 ---
Step 2: Switch to Edit Mode
Find the area you want to add data to and zoom-in to a point you are comfortable with. Select the 'Edit' button on the top left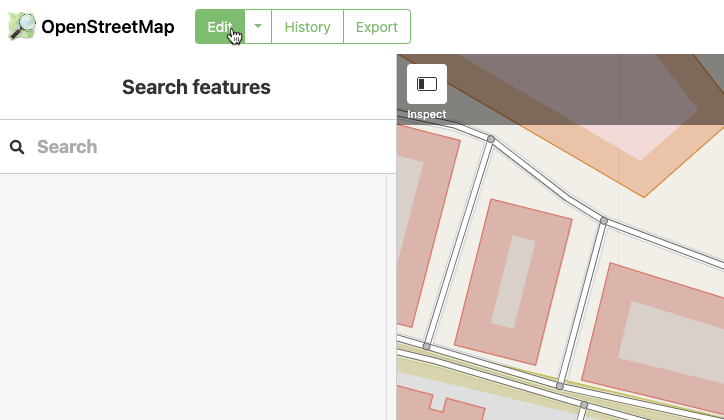 You will be directed to the iD Editor.
The browser URL will change from https://www.openstreetmap.org/#map= to https://www.openstreetmap.org/edit#map=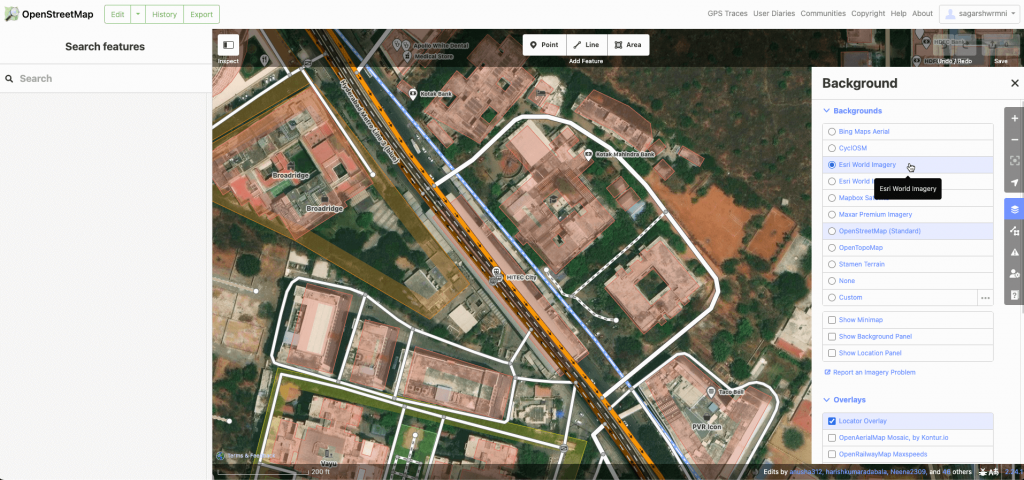 You can switch to satellite mode via the 'background settings' button on the right. This also allows you to modify overlays and change the way the map looks. Settle on the view that works best for you.
---
Step 3: Add your edits
You'll see an overlay at the top with the text 'Add Feature' with the options for adding Point, Line and Area. Each of these features can be edited or deleted as needed to make changes to the map:
A point can be used to identify the location of a single building or Point of Interest
A line can be used to display a continuous feature such as a road or a river
An area can be used to show a larger area such as a park or a city district
Let's assume we're adding the location of a Taco Bell
Navigate to the place on map, zoom in to the level that needs changes and search for relevant objects
Select 'Point' from the options on the overlay and click on the area where the marker for Taco Bell has to be added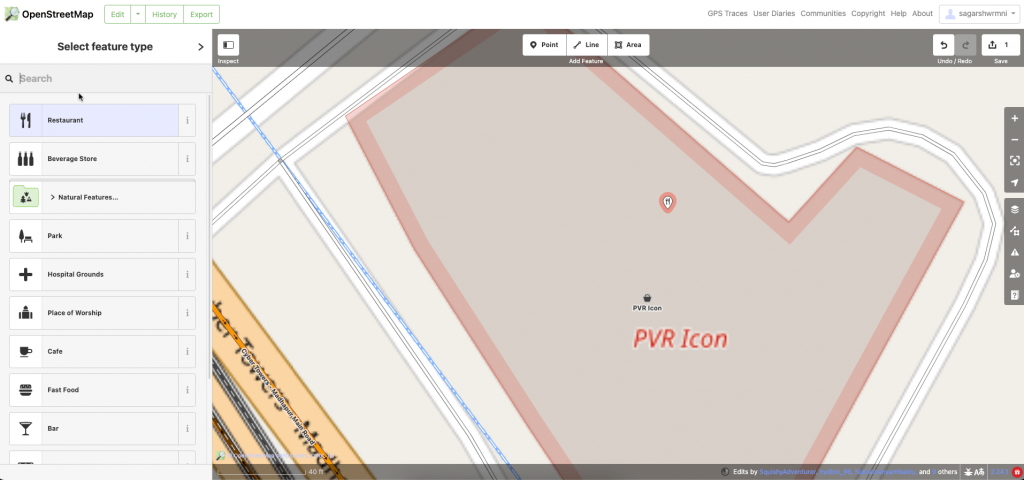 A blank PIN marks the selected location on map
On the left, A selection screen allows adding details, starting with the 'Type' of the place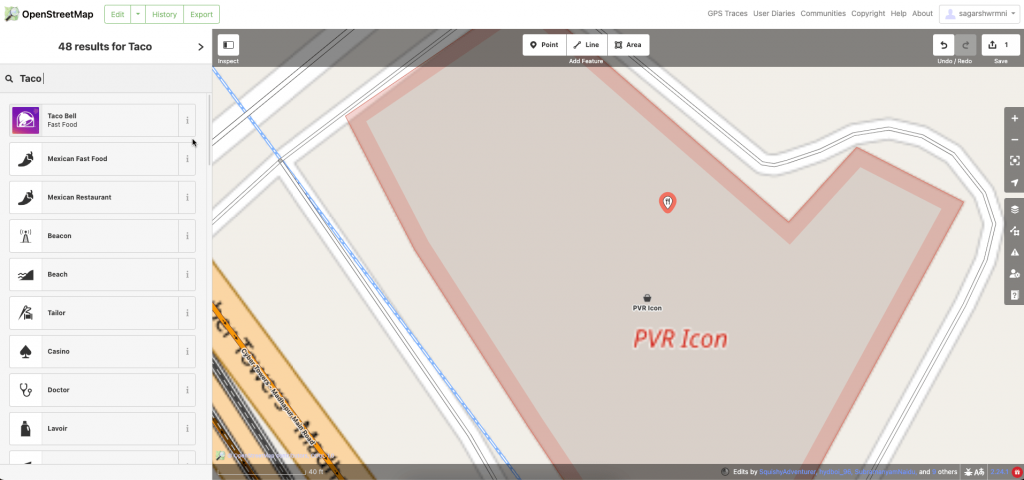 For this example, selecting the feature 'Restaurant' and adding details is the way to go, however – there is a pre-existing label for 'Taco Bell' as it is a large chain of restaurants.
You'll now be able to add more details like Cuisine, opening hours, exact address, website and so on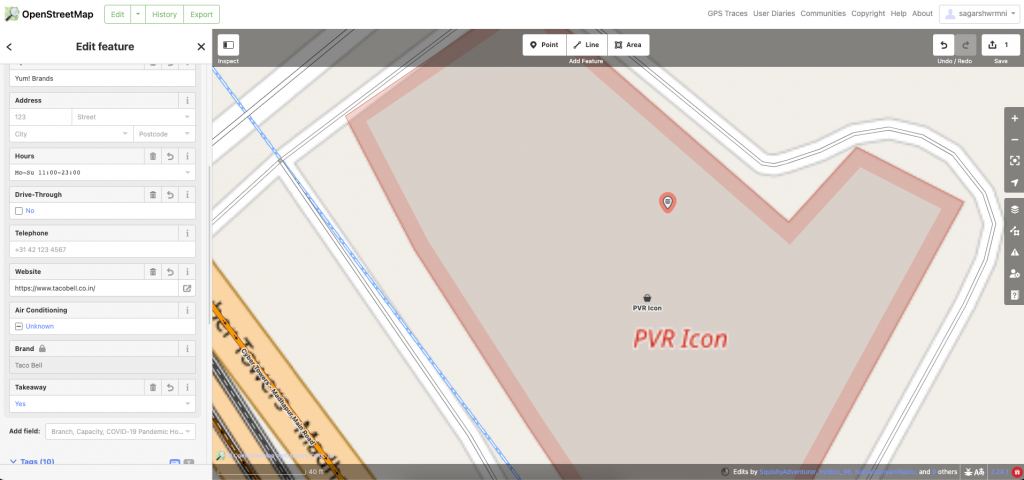 If data is added, review changes and click on the 'Save' icon on the top right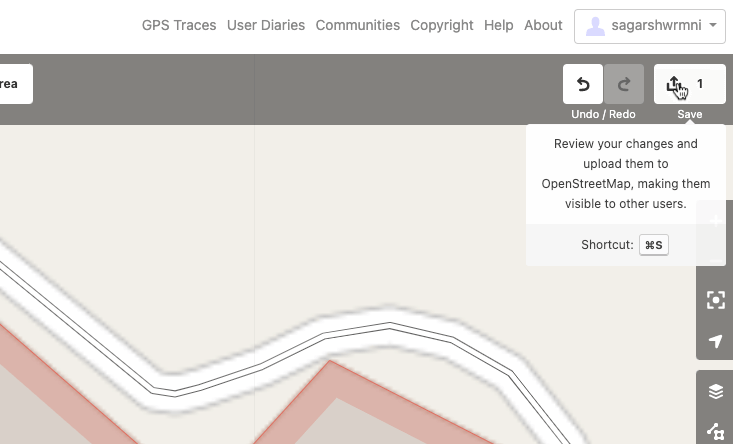 You'll be asked to add comments and mention your sources on the left. Click 'Upload' and your contribution is sent. Once your data is reviewed and approved, it will be published to the OpenStreetMap database.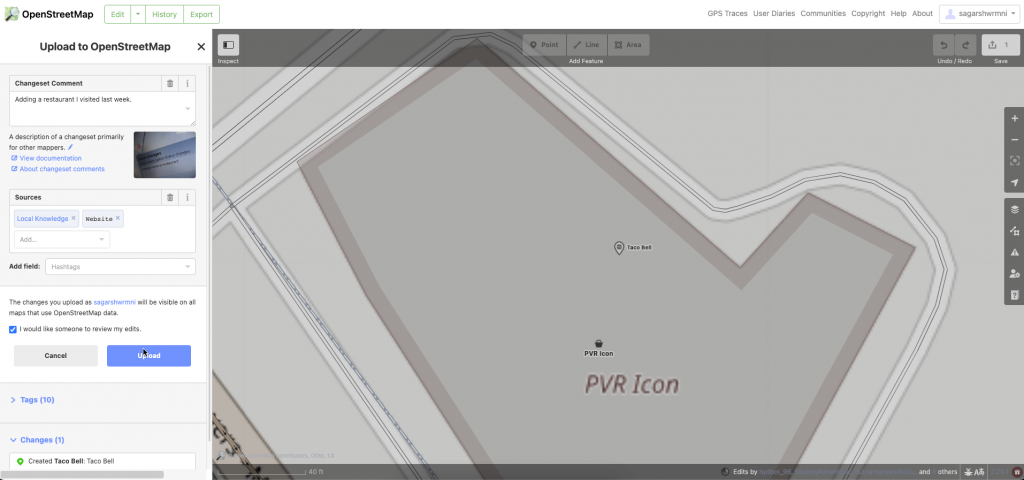 That's it! You're officially an OpenStreetMap contributor. Join the Open Data movement and make a meaningful contribution to the world!
---
Things to keep in mind:
Cross reference all changes to existing OpenStreetMap data to ensure accuracy and credibility.
Do not copy or rely on Google Maps or any proprietary/ copyright-protected data source.
OpenStreetMap data is released under the Open Database License which requires contributors to disclose and share any data they incorporate or create.
When adding or changing map features, make sure to add as much detail as possible to help others understand the context of the edit
Follow the local conventions that have been established in your area, such as properly labeling streets.
Remain polite and respectful to other users and be open to constructive criticism.
Do not hesitate to ask for help when uncertain about the editing process.
---
Need OpenStreetMap powered Geocoding, Autocomplete, Routing or Maps for your business? Get started with LocationIQ here.