In our fast-paced lives today, many pet owners find themselves needing dependable care for their furry friends during work, travel, or other engagements. Thankfully, the rise of animalhotels.com has provided a handy solution. Petsitters offer our pets a cozy home-away-from-home, complete with professional care and a host of services aimed at their well-being. Animalhotels.com has become a beacon of relief for pet owners, granting them peace of mind while they're away from their loved ones.
Introducing animalhotels.com' Innovative Platform
Animalhotels.com is a platform designed to simplify the pet care experience for animal owners. Recognizing the challenges of finding suitable care for pets during an owner's absence, animalhotels.com offers a community-driven solution. Users can browse offers, view photos, and read reviews of pet sitters, engaging with them directly through the site. The unique "Ranking of animalhotels" feature allows owners to find the best care options quickly, based on real feedback from fellow users. Whether it's for a dog, cat, rabbit, or even a spider, animalhotels.com ensures that pets are placed in the loving care of trusted animal enthusiasts.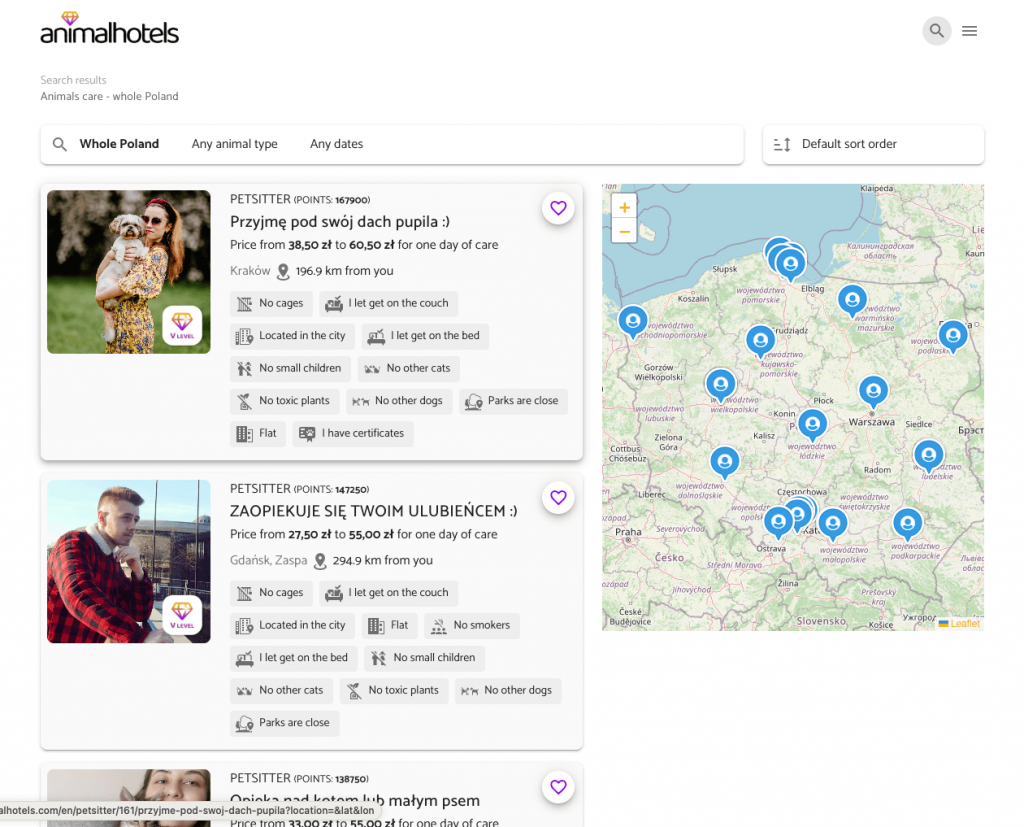 Animalhotels.com has transformed the pet care industry by creating a breaking platform that makes finding and selecting trusted pet sitters a breeze. Through the app, users gain access to a curated list of experienced pet sitters ranked and reviewed by previous customers. The app also facilitates communication between pet owners and sitters, allowing them to chat and discuss specific pet needs, before entrusting their pet to the pet sitter. You can even chat with potential sitters to discuss your pet's unique needs, fostering a connection and trust. This personalized approach enhances the level of trust and connection between owners and caregivers.
Powering Up with LocationIQ
To meet the crucial requirement of connecting pet owners with suitable pet sitters in their desired locations, animalhotels.com turned to LocationIQ.
The app needed to match users with pet sitters based on their locations, leveraging its existing database of registered pet sitters spread across various regions in the country.
By integrating LocationIQ's forward geocoder into their platform, animalhotels.com gained the capability to enable users to enter their desired location, prompting the app to generate a list of available pet sitters in that specific area. This is where LocationIQ's APIs become necessary.
LocationIQ offers an extensive dataset and also provides a robust and reliable geocoding service that precisely matches the user's location inputs to registered pet sitters, streamlining the search process and enhancing the overall user experience.
To further enhance the user experience, animalhotels.com integrated LocationIQ's Autocomplete API, an extension of the forward geocoder. This powerful feature improved the way users input their desired locations by providing predictive text suggestions as the user types.
The Autocomplete API significantly reduces the time and effort required to enter specific locations, making the app more user-friendly and efficient. With this seamless integration, animalhotels.com enabled their users to quickly and accurately find pet sitters in their preferred areas, ensuring a hassle-free search process.
Why LocationIQ was the Perfect Choice
Animalhotels.com carefully evaluated their options and chose LocationIQ for its technical excellence, affordability, and ease of implementation. Plus, LocationIQ's startup program provided significant support, including discounts for early-stage startups.
LocationIQ was easy to set up and pricing was extremely competitive. Would definitely recommend it.

Marcin Osiński, CTO at AnimalHotels.com
---
Our pets are more than just animals; they're cherished members of our families, and they deserve the very best. If you're in search of reliable and loving care for your furry companions, look no further than animalhotels.com. Their innovative platform, designed with both practicality and heart, ensures that your pets are in safe and caring hands. And if you're a developer or business looking to tap into the power of location-based services, check out LocationIQ's geocoding, routing and map tile API